Meet our Pastor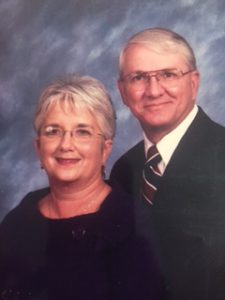 TO OUR CHURCH FAMILY:
Sue and I have been here at Pinkney Missionary Baptist Church for a while now. It has been one of the greatest joys of our lives to serve you, and to serve with you.
Sue and I have found love, friendship, and joy here among such loving and caring people. We have found a church where the people love God and each other. People who are ready and willing to work in total faith in the building up of The Church and God's Kingdom.
As we begin a New Year, let us all do so with a sincere focus on Christ and the cross. At the end of Paul's second missionary journey, he wrote a letter to the Ephesians that speaks to us today, even though he wrote this letter around AD 61-60: Ephesians 2:8, "For by grace you have been saved through faith, and that not of yourselves; it is the gift of God."
May God richly bless you in the New Year – 2017!
Rev. Clayton Sutton